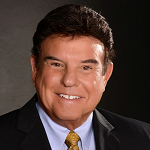 Tom Hopkins has earned the reputation of being America's #1 "How-To" Sales Trainer. Over 5 million salespeople, entrepreneurs, and sales managers on 5 continents have benefited from his live training events.
He perfected his selling skills during his 8-year real estate career in which he received numerous awards. In his last year selling real estate, he sold 365 homes – an average of one per day – something that was unheard of at the time and has rarely been matched even today.
Since that time, he has developed and customized his proven-effective selling skills for over 250 industries. His sales training books, audios, and videos have launched the careers of millions of sales professionals worldwide. His how-to selling skills are proven effective in all types of industries and economic times. Tom has authored 18 books on selling, salesmanship, and success. Over 2.9 million copies of those books have been read by sales pros the world over. He is also the 2013 recipient of the Lifetime Achievement Award from the National Academy of Best-Selling Authors.
He has dedicated his life to helping sales and marketing professionals improve their communication skills and increase sales revenues.
To learn more about how his nuances of selling can make a positive impact on your career, read his blog: http://www.tomhopkins.com/blog.