Have You Ever Held a Client Meeting,
Gotten Down to the "Close",
But Failed to "Seal the Deal"?
Often, it's because the client (or prospect) had some objection to moving forward - - either stated or unstated - - and you were unable to flush it out and properly overcome it.
You can learn how to do this through years of trial and error (and lost revenue) or you can learn how from one of the nation's top sales experts, Tom Hopkins. He has helped thousands of professionals, like you, to be more effective at their client meetings. And, even if you are already closing over 80% of your client meetings, he can help you too!
Join us and Tom Hopkins for a special presentation entitled, "How to Address Concerns, Overcome Objections and Get the Business".
During this 90-minute presentation, Tom will share with you:
Why you should actually welcome concerns and objections!
How to spot the difference between valid and invalid concerns and objections.
Exactly what to say to overcome the most common concerns prospects have about doing estate planning.
6 tested and proven steps to completely demolish objections.
How to read the buying "signs" that your potential client is ready to work with you.
Strategies for helping potential clients who are "on the fence" to rationalize their emotional decision and make the commitment to go ahead!
SPECIAL 2-PART SERIES
NOTE:  This is the second presentation of a unique 2-part series entitled, "How to Get More People to Buy from You".  You can take advantage of a discount by signing up for the series program.
Think about it…if you were to pick up just one more client from what you learn, these two 90-minute teleconferences will be well worth your investment.  Frankly, if you're not already closing every single potential client that you meet with, you can't afford NOT to attend this series!
Program Title: How to Address Concerns, Overcome Objections & Get the Business
Speaker: Tom Hopkins
Duration: 90 minutes
Purchase
ABOUT THE SPEAKER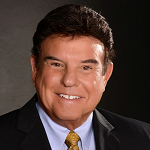 Tom Hopkins has earned the reputation of being America's #1 "How-To" Sales Trainer. Over 5 million salespeople, entrepreneurs, and sales managers on 5 continents have benefited from his live training events. He perfected his selling skills during his 8-year real estate career in which he received numerous awards. In his last year selling real estate, he sold 365 homes – an average of one per day – something that was unheard of at the time and has rarely been matched even today. Since that time, he has developed and customized his proven-effective selling skills for over 250 industries. His sales…
IMPORTANT NOTICE REGARDING CE CREDIT

The Ultimate Estate Planner, Inc. and the presenter are not registered Continuing Education Sponsors and this program is not pre-approved for continuing education credit for any state or regulatory agency.

However, please note that each program includes a Certificate of Completion and, depending on the license and the regulatory agency for which governs a participant's CE credit, some professionals may be able to self-report his or her participation and receive credit. It is the responsibility of the participant to complete any process necessary to seek self-reported CE credit for his or her participation. By registering for a teleconference (or purchasing on On-Demand program), you understand that CE credit is not guaranteed or warranted by the presenter or The Ultimate Estate Planner, Inc.