CPA/PFS, CFP®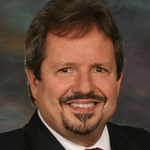 Theodore J. Sarenski, CPA/PFS, CFP® created Blue Ocean Strategic Capital, LLC within a regional accounting firm in 1997 and in 2010, purchased 100% ownership from that firm to begin as an independently owned organization. Kevin VandenBerg, who joined Ted in 2007, became a partner at the same time.
Ted's over 30 years experience as a CPA and over 20 years as a Financial Planner serve as the backdrop for the assembly of the Blue Ocean staff of highly educated, experienced people who form the team that deliver wealth management services to Central New York. His extensive experience in individual taxation and estate planning bring a dimension to wealth management not found in most other asset management firms at the local level.
Ted is recognized locally and nationally as an expert providing financial planning advice. He currently appears on WSTM-3, Syracuse's NBC affiliate, taking viewers' calls and offering planning concepts to viewers and was recently nominated to receive the 2012 Distinguished Service Award by the American Institute of Certified Public Accountants (AICPA) Personal Financial Planning Division for contributions to industry-related publications and speaking engagements across the country.
Ted authored articles on financial planning that have appeared in The Journal of Accountancy, The CPA Journal, The Journal of Taxation and the AICPA Wealth Management Insider. He authored a CPAs Guide to Social Security for the American Institute of CPAs in 2011. He has been interviewed and quoted in many publications including: USA Today, Consumer Reports, The Christian Science Monitor, Investment News, Kiplinger Personal Finance Report, Accounting Today and The Practical Accountant.
Since 2005, Ted has been interviewed by hundreds of Radio Stations across the country on a variety of financial planning and income tax topics. Ted was interviewed for a 45 minute segment of NPR on the topic of retirement and Social Security in 2009.