CEPA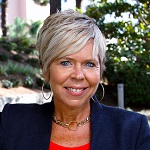 Shelley Lightfoot, CEPA is a life-long financial and legal services professional, Shelley's unique combination of experience, passion, and creativity are an excellent contribution for her objective of helping wealth advisors attract and engage clients through collaborative efforts with other advisors.  Since early 2009, Shelley has enjoyed her role as the Executive Director and Partner in 4 unique brands:
The Southern California Institute is a Thought Leader Community providing resources, education, and advice via collaborative think tanks, events, programs, online content, and introductions.
The Laureate Center for Wealth Advisors provides advanced training and support for wealth advisors, such as: Attorney's, Accountants, Fiduciaries, Bankers, Financial Advisors, Insurance Professionals, and other wealth advisors learn how to attract, engage, and work with their perfect client and their trusted advisors.
Strazzeri Mancini LLP helps affluent families get to the heart of highly relevant matters and resolve messes in the areas of integrated tax and estate planning, business succession, and family governance counseling.
The Founders Group leads business owners through all phases of transition where increased clarity, net cash flow, and market value expands and solidifies choices for business transition: if, when, how, how much, and to whom.
Previous Positions
Shelley has been engaged in the financial services industry since 1986; having held various executive management positions including Vice President of Investments, Compliance Officer, Operations Manager, Sr. Management Consultant, and Business Development Manager. Born and raised in Kansas City, MO (most recently Overland Park KS), Shelley moved to the San Diego area in 2007 while employed with Bank of America. During her 5-year tenure with BofA, Shelley was second in command of 80 branch locations with 112 employees; extending her industry experience to virtually all areas of financial services, including branch management, regulatory compliance audits, sales supervision, business plan coaching, operational efficiency and national policy review. In addition, Shelley has also successfully provided independent compliance and management consulting for financial advisors and broker dealers.
Education / Accreditation
Although they are no longer active, Shelley has obtained a number of securities licenses over the years (series 7, 8, 63, and 65); has a bachelor's degree in management; and is a Certified Exit Planning Advisor (CEPA).
Educator
With over 25 years of experience, Shelley often educates advisors and business owners from all disciplines through SCI programs and speaking engagements at affiliated organizations such as Dunham & Associates, Best Practices of America, Society of Financial Services Professionals, WealthCounsel and ElderCounsel, Bank of America, UBS Financial Services, Exit Planning Institute, Financial Planning Association, Fiduciary Attorney Summit, The Center for Tax Strategies and Resources, and more.