J.D., LL.M.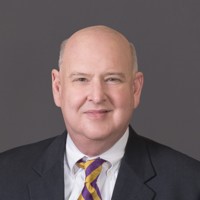 Paul is an author, speaker and consultant on tax, estate and charitable planning. A native of Louisiana (and a double LSU Tiger), Paul Hood obtained his undergraduate and law degrees from Louisiana State University and an LL.M. in taxation from Georgetown University Law Center before settling down to practice tax and estate planning law in the New Orleans area.
Paul has taught at the University of New Orleans, Northeastern University, The University of Toledo College of Law and Ohio Northern University Pettit College of Law. Paul has authored or co-authored nine books and over 500 professional articles on estate, charitable and tax planning and business valuation. Paul's ninth book, Yours, Mine & Ours: Estate Planning for People in Blended or StepFamilies, is now out. His website is www.paulhoodservices.com.
A "recovering tax lawyer" and frequent contributor to Leimberg Information Services since its inception, Paul is a highly sought-after speaker and consultant because of his innate ability to see through the complexity and explain difficult and even boring subjects in understandable and entertaining language with his insightful and biting sense of humor, and he minces no words in doing so. Along the way, Paul's been a father, husband, uncle, Godfather, lawyer, trustee, member, director, president, partner, trust protector, director of planned giving, expert witness, agent, professor, judge, juror, respondent, and a defendant, and he uses his experience in these myriad roles to guide others.
A passionate history buff who teaches the history of tax and estate planning in his school and continuing education classes, Paul is a self-described amateur papal historian (boasting a personal library of papal history books that exceeds 100), and he has given numerous speeches about the history of the papacy and the popes as well as the history of the governors of Louisiana.
In the fall of 2022, Paul is beginning to teach a three semester course on the history of the popes and the papacy in the Adult Lifelong Learning Program at Lourdes University, and he's also teaching another course at Lourdes in the fall of 2022 on the fascinating and litigious histories of two of the Rock 'n Roll Hall of Fame's most commercially successful groups the Platters and the Drifters.