J.D.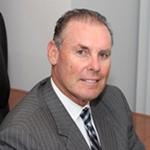 Jeffrey M. Verdon, Esq. is the Managing Partner of Jeffrey M. Verdon Law Group, LLP, a tax planning and asset protection boutique law firm, with offices in Newport Beach and Century City, California, and Las Vegas, Nevada, and enjoys an "AV" rating with Martindale-Hubbell.  Mr. Verdon is regarded as one of the country's pre-eminent asset protection planning attorneys.  Among his many publications is his book, "Estate Planning for Women Only" and a popularly received topic among his speaking engagements.   Another signature program he developed is the HYCET Trust®, or "Have Your Cake and Eat it Too," which taps into a current tax law (expiring end of 2012) by allowing individuals to give a tax-free gift of up to $5 million (up from $1 million) per donor, and retain the ability to recapture the gift in case of emergencies.
For the past 25 years, Mr. Verdon has lectured at financial and investment conferences for the high net worth investor, insurance industry conferences, and aboard luxury cruise ship investment conferences. He also lectures regularly at local and national law firms, providing accredited CLE programs on "Asset Protection:  An Overview of Offshore Planning Strategies and U.S. Tax Compliance".
Mr. Verdon has received a number of honors over his 34-year career, including being named as one of Forbes "Top 10 Most Dependable Lawyers in California."  In 1977, he received his Juris Doctorate from Mid-Valley College of Law, Van Nuys, CA, and at the age of 22, was recognized as being the youngest law school graduate ever to pass the State Bar of California exam.  Jeffrey Verdon received his Masters of Laws (Taxation) from Boston University in 1979. Mr. Verdon began practicing corporate tax law. He shortly refocused his practice areas to advanced estate planning and asset protection for affluent families and business owners, and has pioneered many successful practice management innovations, including fixed fee or value billing, a client centric/client concierge firm practice orientation and outsourcing to some of the country's top tax lawyers enabling the firm to provide a broader level of practice competency with a minimal number of staff and lawyers.