J.D., LL.M. (Taxation), California State Bar Certified Specialist in Estate Planning, Trust & Probate Law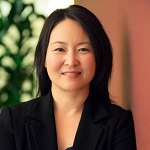 Alma Soongi Beck, Esq. is a Certified Specialist, Estate Planning, Trust and Probate Law, State Bar of California Board of Legal Specialization. She helps individuals, couples and families navigate issues relating to estates and trusts, probate and trust administration, domestic partnership and property co-ownership, particularly as they affect unmarried and same sex couples.
Ms. Beck earned her J.D. from Georgetown University Law Center in 1998, and an LL.M. degree in Taxation (graduate law degree) from Golden Gate Law School in August 2004. For high school, she graduated from Phillips Academy in Andover, Massachusetts and for college, earned a B.A. in American and Ethnic Studies from Yale University.
Ms. Beck regularly conducts public and private seminars on a variety of estate planning topics such as marriage, domestic partnership, estate planning and property issues for lesbian, gay, bisexual, transgender (LGBT) individuals, couples and families, as well as Medi-Cal, long-term care and IRA Inheritance Trust planning. In recent years, she has conducted public programs for Our Family Coalition (for LGBT parents and families), Gay Asian Pacific Alliance (GAPA), Asian Pacific Islander Queer Women and Transgender Community (APIQWTC), Openhouse (for LGBT Seniors), the National Center for Lesbian Rights (NCLR), Barbary Lane Senior Communities, and the Horizons Foundation. She has served on the board of Transgender Law Center, Our Family Coalition, Bay Area Lawyers for Individual Freedom (BALiF), and the Korean American Bar Association of Northern California (KABA-NC).