J.D.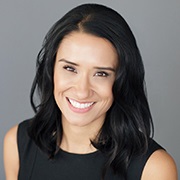 Yvonne Eckert Olivere, J.D. is an attorney who previously had her own private law practice in Denver, Colorado for over a decade.  She practiced exclusively in the field of estate planning and estate and trust administration.
In April 2018, Yvonne joined WealthCounsel exclusively and left her private practice.  She is currently the Vice President of Learning and Law Practice Success.
Before becoming a lawyer, Yvonne was in the United States Air Force and is proud to be the fourth generation in her family to serve in the military. Yvonne holds a degree in Political Science from the University of Texas at San Antonio and received her law degree from the University of Texas School of Law.
Yvonne currently lives in Florida with her family and in her spare time, loves to travel, practice yoga, and read.