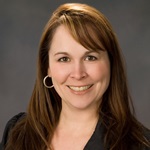 Michelle L. Ward, J.D., LL.M, CSEP is a Partner with Keebler & Associates, LLP whose emphasis is in estate planning with primary focus on retirement distribution planning. She also analyzes trusts for designated beneficiary status, benefits, and viability of inherited IRA analysis, as well as prepares private letter ruling requests and specimen retirement planning documents.  Michelle has received more than 30 favorable private letter rulings and is a Certified Specialist in Estate Planning.
Michelle received her bachelor's degree from the University of Wisconsin-Madison and her law degree from the University of Wisconsin-Madison Law School and received her LLM in estate planning from Western New England College of Law.  Her professional affiliations include the State Bar of Wisconsin and the Green Bay Estate Planning Forum.
Michelle is also co-author of Panel Publishing's Roth IRA Answer Book (2008 through 2014 editions) and Quick Reference to IRAs (2008 through 2013 Editions) and AICPA's The Small Business Jobs Act of 2010: Tools, Tips, and Tactics.  Michelle has also authored articles appearing in Trusts & Estates, Investments and Wealth Monitor, and Journal of Retirement Planning. Michelle is a member of the editorial advisory board of Penton Media's Trusts and Estates magazine.
Prior to joining Keebler & Associates, LLP Michelle was in private law practice in Green Bay and was also a Senior Consultant with Baker Tilly Virchow Krause, LLP.