Do You Feel Like You're
Drowning in E-mails Every Day?
Learn More Efficient and Effective E-mail Management
with Clients and Your Staff!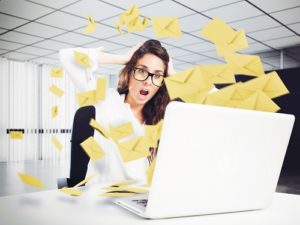 Do you ever feel like you've done nothing but become a professional e-mailer - - e-mailing back and forth with clients, staff and associates - - but not really getting to those important tasks that you know you need to?
E-mail was always intended to be an efficient form of communication, but for so many practitioners, it has become disruptive and a source of a lot of inefficiency. If any of the following are true for you, it may be a sign that e-mail management is an issue for you:
You are taking more than 5 to 10 minutes to reply to multiple e-mails per day
You are having to touch the same string of e-mails more than once
You are replying to e-mails first thing in the day, late in the evening or on the weekends
You have more than 25 e-mails in your inbox right now
You struggle to locate e-mails that you need to reply to
You have clients complaining that they have e-mailed and have not received a reply
No matter what kind of professional you may be, this is a major source of inefficiency and burnout for so many!
This is why I've asked Kristina Schneider, Practice Success Coach, to put together this timely and practical presentation entitled, "How to Effectively Manage Your E-mails (Best Practices for Professionals and Staff)".
Kristina takes her over 18 years of experience in the area of practice management and training of attorneys and their staff, to give you all of the guidance to stop being dragged down by e-mails!  In this 93-minute presentation, you will learn:
How and why both internal and external e-mail has become such a source of inefficiency in the workplace
7 practical strategies for how to successfully manage and control e-mail communication with clients so that you don't become a slave to the back and forth exchanges!
Step-by-step instructions on how to better manage the e-mails coming into your e-mail inbox
How e-mails between staff and associates have become an unnecessary source of miscommunication, inefficiency and terrible employee management
A better system for communicating with staff and associates so that everyone in the office is no longer interrupting one another and constantly putting out fires
2 tested and proven strategies that will help you blitz through your e-mails much quicker
How to move away from midnight and weekend e-mails and still provide exceptional customer service to the client!
Your purchase includes an instantly downloadable video and audio presentation, PDF handout materials, and accompanying exhibits.  You get all of this and more for your office for just $199.  A PDF transcript is available as an add-on for an additional fee.
Program Title: How to Effectively Manage Your E-mails (Best Practices for Professionals and Staff)
Speaker: Kristina Schneider
Duration: 93 minutes
Purchase
ABOUT THE SPEAKER
Practice Success Coach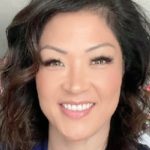 Kristina Schneider is a Practice-Success Coach for The Ultimate Estate Planner, Inc. Her primary responsibility involves consulting and assisting estate planning attorneys on a variety of practice-building and marketing strategies taught by nationally renowned estate planning attorney, Philip Kavesh. Kristina graduated from Pepperdine University with a Bachelor's degree in Business Administration. Immediately following her graduation, she was hired by Phil and Phil's law firm, Kavesh, Minor & Otis, to help put together live training programs for estate planning attorneys and financial advisors. Additionally, she also served as Phil's Executive Assistant and assisted his law firm in firm management and marketing….
IMPORTANT NOTICE REGARDING CE CREDIT

The Ultimate Estate Planner, Inc. and the presenter are not registered Continuing Education Sponsors and this program is not pre-approved for continuing education credit for any state or regulatory agency.

However, please note that each program includes a Certificate of Completion and, depending on the license and the regulatory agency for which governs a participant's CE credit, some professionals may be able to self-report his or her participation and receive credit. It is the responsibility of the participant to complete any process necessary to seek self-reported CE credit for his or her participation. By registering for a teleconference (or purchasing on On-Demand program), you understand that CE credit is not guaranteed or warranted by the presenter or The Ultimate Estate Planner, Inc.