Fellow Estate Planning Attorneys…
Do You Want to Close More Prospective Clients?
Tested and Proven Strategy for Efficiently
Marketing and Selling Estate Planning Services!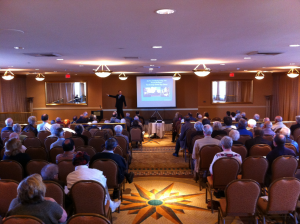 Seminar marketing can be and continues to be an effective tool for marketing any estate planning practice. It has been proven to help save time (that would have otherwise been spent meeting with several potential clients in one-on-one meetings). It has also been proven to help pre-close prospective clients that may just be shopping around for an estate planning attorney. And, most importantly, it is a great tool to help prospective clients stop procrastinating and get off the fence to get this much-needed planning completed for their loved ones!
Let's face it.  Living Trusts have become a commodity and many people aren't sure what the difference is between what you offer and the online, DIY, cheap estate plans.  You have to show them how and why your planning is superior and what you're bringing to the table over the rest (including your competitors!).  This is where a seminar can help!
Ultimate Estate Planner President and nationally renowned estate planning attorney, Philip Kavesh, has built his law firm through the process of seminar marketing for over the past 40+ years. His law firm, which consists of over 10,000 clients, consistently holds Living Trust seminars each month to help drive in new business to the firm. Having given well over an estimated 5,000 of these Living Trust seminars in his career, Mr. Kavesh has certainly developed a system and a powerful seminar that works!
Whether you're new to seminar marketing or you've given your fair share of seminars, our tested and proven Living Trust Seminar is the perfect product for any living-trust centered practice. It includes everything you need, including modifiable seminar PowerPoint presentation, a seminar script (so you will know what to say), a video of Phil giving the presentation, marketing pieces to help drive prospects to your seminar, presentation handouts (including an outline and response form), along with tools to help you book appointments right at the seminar!
All of this is available for a reasonable one-time licensing fee that can easily be made up with just one new client engagement!
Don't Give Seminars?
No problem!  Not everyone likes to give seminar presentations to their clients and prospective clients. But your one-on-one meetings are essentially mini-presentations, just in front of a larger audience. You can modify all of the items that come in this package to encourage people to contact you and set up an appointment and you can use the presentation slides as flip charts or visual aids in your one-on-one meetings to help you close more one-on-one meetings!
What's Included in the Living Trust Seminar Marketing Package?
The Living Trust Seminar Marketing Package comes with the following items:
Seminar PowerPoint Presentation with modifiable slides to help educate and inform prospective clients about the importance of getting a Living Trust, along with establishing you and your firm's "USP" to help get them to want to come in and see you!
Seminar Script so that you will know what to say for each and every slide with tested and proven phrases and explanations that motivate prospective clients to want to get their estate planning done and, most importantly, done with your firm! You will also have access to a live video recording of an actual seminar I gave so that you can watch and observe exactly how I present this seminar.
Seminar Marketing Materials featuring tested and proven direct mail marketing pieces that have been used to drive interest and attendance to the seminar for both older and younger clients and clients already with living trust and those that are getting a living trust for the first time. Also included are mailing list demographics and instructions on how to use the marketing pieces.
Seminar Handouts including a seminar outline and response form to help attendees follow along, plus suggestions for other seminar handouts to include with your handout materials to seminar attendees.
Appointment Booking Tools including appointment cards to help book appointments right at the seminar in the most efficient and effective manner!
The seminar presentation comes in a modifiable Microsoft PowerPoint format and the seminar handouts come in a modifiable Microsoft Word format for you to be able to easily modify, edit and use in your practice.
NOTICE TO SOUTHERN CALIFORNIA PURCHASERS
This seminar was developed by Phil Kavesh and his law firm, which is located and services the Los Angeles and Orange County areas of Southern California.  To protect its own interests, as well as yours, we currently do not license this product to purchasers located and practicing in the LA and OC areas.