While the Demand for Estate Tax Planning is Declining
and the Price Competition in Estate Planning is Increasing,
There IS a Potential Growth Area for Your Practice - -
Trust Administration!
(If You Know How to Do It Right!)
Here are the facts.  Massive numbers of revocable Living Trusts have been established over the past 20 years.  Now, the population of trust owners is rapidly aging and many are passing away.  The result is a burgeoning demand for trust administration.
The even better news is that all your competing, low-price trust providers (internet companies, paralegals and attorney trust mills) aren't capable of or prepared to do trust administration.
The bad news is, where there's opportunity there's risk too - - pitfalls and liabilities you may face if you don't know how to do trust administration right!
If you're an estate planning attorney, or a CPA, financial advisor or trust officer, join us and trust administration specialist, attorney Kristin L. Yokomoto, MBA, JD, LLM, TEP, for a valuable, information-packed 60-minute presentation entitled, "Trust Administration Made Easier!".
Whether you're already doing trust administration, or just getting started, or merely participating as a non-attorney client advisor, you need to know:
How should the trust administration process properly work?
How do you set your fees for trust administrations?
Which trust provisions are pivotal for you and the successor trustee to understand?
How do you spot planning opportunities, such as when making asset allocation and distribution decisions?
What kind of additional estate planning work can be generated?
How can you gain cooperation with the client's other advisors and clearly define each advisor's most important tasks and contributions?
What are the best practices that can protect you, your firm and your clients?
How can you become a better trust planner and drafter by learning about the most common administration pitfalls?
Your purchase includes: Immediately downloadable PDF handout materials and MP3 audio recording.  A PDF transcript may also be purchased for an additional fee during the checkout process.
Program Title: Trust Administration Made Easier!
Speaker: Kristin L. Yokomoto
Duration: 60 Minutes
Purchase
ABOUT THE SPEAKER
MBA, JD, LLM, TEP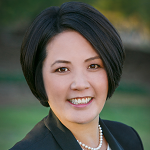 Kristin Yokomoto helps families and business owners to preserve their assets through tax, generational wealth and business planning.  She is a partner at Albrecht & Barney in Irvine, California where she focuses on estate planning, business succession planning, trust administration and probate.  She has also focused on venture capital financings, mergers and acquisitions and securities laws at Buchalter Nemer in San Francisco and Los Angeles.  Kristin is the Secretary and a member of the Board of Directors of STEP-Orange County.  She is a member of the STEP Mental Capacity Special Interest Group Committee and the Orange County Bar Association Professionalism…
IMPORTANT NOTICE REGARDING CE CREDIT

The Ultimate Estate Planner, Inc. and the presenter are not registered Continuing Education Sponsors and this program is not pre-approved for continuing education credit for any state or regulatory agency.

However, please note that each program includes a Certificate of Completion and, depending on the license and the regulatory agency for which governs a participant's CE credit, some professionals may be able to self-report his or her participation and receive credit. It is the responsibility of the participant to complete any process necessary to seek self-reported CE credit for his or her participation. By registering for a teleconference (or purchasing on On-Demand program), you understand that CE credit is not guaranteed or warranted by the presenter or The Ultimate Estate Planner, Inc.