The Medicaid Asset Protection Trust: From Initial Consult to Funding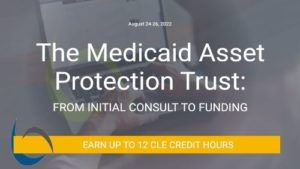 The EC Medicaid Asset Protection Trust® (MAPT) is the keystone to many ElderCounsel members' proactive planning practices. During this three-day live event, it will cover the full life of MAPT planning from how to talk to clients about proactive planning, trust considerations and design, to trust funding.
Some of the specific topics covered during this course will be:
Applicable Medicaid Law
Basic Trust Design Considerations
Beneficiaries
Advanced Trust Design Considerations
Trust Protectors
Special Assets and How to Read the Paperwork
Taxation
Medicaid Application Considerations
Funding
In this program leverage Mark Munson's in-depth knowledge of all things MAPT and Jill Roamer's ElderDocx® drafting insights to provide a practical overview of this important asset preservation planning tool. ElderCounsel members will have the opportunity to draft a MAPT during this interactive program.
You will walk away from this course with a deep understanding of a MAPT's technical aspects, how to draft it accordingly in ElderDocx, which assets are right to be funded into the trust, and how to fund the MAPT.
This course will be hosted at our classroom, The LAB @ Denver, in Denver and it will also be broadcast live via Zoom. The sessions are scheduled to start Wednesday afternoon and conclude Friday at noon. This was done to allow you to travel to Denver Wednesday morning and leave Friday afternoon if you would like to minimize your travel time but attend sessions.
Course Dates
The event will be held virtually from August 24-26, 2022.
Pre-camp call: Wednesday, August 17, 3:00 p.m. ET
Presenters: Mark D. Munson, J.D., CELA, Jill Roamer, J.D., CIPP/US, and Jim Wolverton, J.D.
Agenda
AGENDA
Registration
In-Person Price: $495
Virtual Webcast Price: $995
Reserve your seat for $250 (remaining balance will be charged 3 business days before the course)
REGISTER
Contact Information
888-789-9908, Option 3
E-MAIL ELDERCOUNSEL