Special Needs Planning Symposium 2023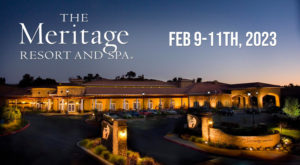 A 3-day experience dedicated to the education of professionals who plan for persons with disabilities and administer special needs trusts. This informative and interactive educational adventure benefits seasoned professionals as well as those just beginning their practice. You will have multiple opportunities to chat with nationally-renowned experts on all aspects of special needs planning and administration to ensure your move toward mastery in this complex yet rewarding field.
Conference Date
The event will be held at the Meritage Resort and Spa in Napa, CA on February 9-11, 2023.
Agenda
This year's agenda is packed with some of the nation's leading experts in the estate, tax and financial planning industries.  For more information, view the Event Agenda.
2023 Agenda will be posted 7/01/22
Registration
In-Person: Will take place in Napa at the luxurious Meritage Resort and Spa for in-depth learning at it's finest. Experience world class cuisine and wine while taking a deep dive into the complex area of special needs planning and administration.
Registrations Open Summer 2022
Virtual: Will take place at the convenience of home or anywhere you choose, 100% virtually through our state of the art online learning platform.
Registrations Open Summer 2022
Professional attendees can obtain up to a total of 21.5 CLE/CE for California attorneys and California Professional Fiduciaries. This includes 11 credits in regular sessions PLUS complimentary 2 hours of Ethics credits and a bonus 2-hour special needs program to be viewed at your convenience via recorded webinar with an option of 6.5 credits of attorney/fiduciary pre-session specialty courses.
REGISTER ONLINE
Contact Information
1-415-593-9944
E-MAIL SPECIAL NEEDS SYMPOSIUM TEAM