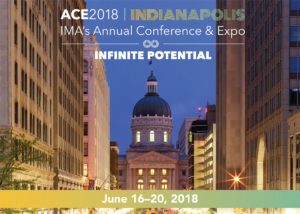 Image is a courtesy of IMA
ACE 2018 IMA's Annual Conference & Expo gives you access not only to cutting edge experts but to over 65+ options to customize your learning experience. This is the only conference that offers you a variety of specialty tracks designed for management accountants.
Sponsorship Opportunities
For 2018 Exhibitor and Sponsorship Information Please Contact:
Sue Khawaja
Business Development Manager
(201) 474-1571
skhawaja@imanet.org
Registration
More information coming soon.