Special Needs Trusts:
What You Need to Know - -
Or Else!
You're probably aware that, if an estate plan beneficiary is currently receiving government benefits, the best way to preserve those benefits, and the beneficiary's quality of life, is to set up a "Special Needs Trust."
But if the Trust isn't set up properly, it can be a disaster - - and how familiar are you with the intricacies of how a Special Needs Trust needs to be designed, drafted and implemented?
Do you know…
Which public benefit programs can be protected by a Special Needs Trust - - and which can't?
The two different types of Special Needs Trust?
What the "POMS" considerations are when drafting a Special Needs Trust?
How to address the 3 key issues of "availability", transfer penalties and "payback"?
Whether you're a CPA, financial advisor or estate planning attorney, find out "what you need to know" about Special Needs Trusts on a very special 60 minute presentation with one of the nation's leading authorities, attorney Thomas D. Begley, Jr.  As co-author of the Special Needs Trusts Handbook, a founding member of the Special Needs Alliance (a national network of lawyers dedicated to serving families of persons with disabilities) and a recipient of the prestigious NAELA President's Award, Tom has an exceptional level of knowledge and experience to share with you.
Join us for this special 60-minute presentation entitled, "What's So Special About Special Needs Trusts?".
Program Title: What's So Special About Special Needs Trusts?
Speaker: Thomas D. Begley Jr.
Duration: 60 minutes
Purchase
ABOUT THE SPEAKER
J.D., CELA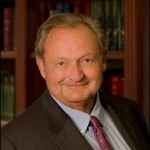 Thomas Begley, Jr. is a lifelong resident of Southern New Jersey and earned both his undergraduate and law degrees at Georgetown University. In a career that spans over 40 years he has extensive experience in Elder Law, Medicaid Planning, Special Needs Trusts, Disability Law and Personal Injury Consulting. In addition, Tom is an accredited attorney for the preparation, presentation, and prosecution of claims for veteran's benefits before the Department of Veterans Affairs (VA). Tom is a member of the New Jersey Bar Association, all relevant state, local affiliates and the National Academy of Elder Law Attorneys. He is past Chair…
IMPORTANT NOTICE REGARDING CE CREDIT

The Ultimate Estate Planner, Inc. and the presenter are not registered Continuing Education Sponsors and this program is not pre-approved for continuing education credit for any state or regulatory agency.

However, please note that each program includes a Certificate of Completion and, depending on the license and the regulatory agency for which governs a participant's CE credit, some professionals may be able to self-report his or her participation and receive credit. It is the responsibility of the participant to complete any process necessary to seek self-reported CE credit for his or her participation. By registering for a teleconference (or purchasing on On-Demand program), you understand that CE credit is not guaranteed or warranted by the presenter or The Ultimate Estate Planner, Inc.