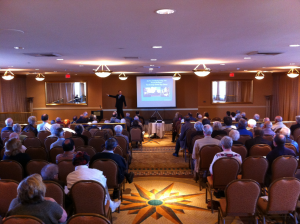 Do you think seminars are dead?  I keep reading a lot of articles and marketing pieces coming out of companies that are promoting other internet-based services that keep stating that seminars are dead and an antiquated and outdated way to market your estate planning services.  I laugh only because I know of several law practices that are regularly bringing in consistent new clients in each month using seminars.
First, I think it is important to be honest with ourselves about the differences between estate planning and other areas of law (such as divorce, personal injury, DUI, etc.).  With the exception of probates and conservatorships, much of estate planning is what I call a "proactive" type of law.  The others are more "reactive".  If I get injured in an accident, I need a lawyer.  If I want to divorce my spouse, I need a lawyer.  If I get arrested for a DUI, I need a lawyer.  Something happens, I need a lawyer.  But, when it comes to getting your estate plan drafted and put together, for one, that's something many people say that they'll do "someday".  You and I know that "someday" is usually too late.  But, they don't know that and so it becomes something that they will continually put off and procrastinate until something in them tells them it's time to get it done.  This is why you often get calls when clients are now sick, ill or disabled and, even then, sometimes it is too late.
So, even more so, estate planning attorneys are in an area of law where they have to find a way to reach out to those in the community that need to get their estate planning affairs in order and show them why it is so important that they get this done and get it down now.  Otherwise, what are your other options?  Sitting around the office hoping that someone finds your website and calls you?  Hoping your local professional referral sources have a client that needs estate planning and they call and refer them over?
Don't get me wrong.  I'm not blind to the fact that most people are connected to the worldwide web and social media and are visibly looking at other means of messages that may eventually drive them into your office.  However, even if you do have a website (which I hope you do!) and people find your website, does that mean that they're solid candidates that are going to do business with you?
Of course not!
With services like LegalZoom and Rocketlawyer, estate planning has become a commodity and the message that many of your prospective clients are hearing is that a Living Trust is a pretty simple legal document that can quickly, cheaply and easily be prepared without a lawyer and the expense of a lawyer.  OUCH, right?
Well, this is absolutely where seminars will help you.  Here are just a few of the reasons why seminars are the most effective way to funnel any and all potential clients into your practice:
Predictable income while hunting for white elephants
You're no longer dependent on third-party promises of referrals
Diversify your client base (long-term value of smaller clients)
Hedge against changes in market conditions or laws
More Clients → Hire More Attorneys → Make More Income → Take Fewer Client Meetings → Take More Time Off →Do More Marketing or Exit Your Practice
Efficient use of your time
Non-threatening way for people to refer (and be referred) to you
Increase your closing rate (prospects know your fee and process)
More name recognition and visibility
Malpractice protection
Out of all of the reasons above, the efficient use of your time is probably one of the biggest reasons.  If you're not doing seminars, then my guess is that you probably have a 3-meeting (or more!) process for preparing an estate plan for your clients.  You're giving anywhere from 60 to 90 minutes (or more!) to each and every luke warm lead that comes through the door before they agree to engage you; and then, you set up a secondary meeting to design their plan; and then, a third meeting to sign and execute their plan.  So, think about it.  Your first meeting is effectively a one-on-one seminar!  Why not take that time and do that in front of a group of multiple potential clients who then decide whether or not they want to come in and see you?  Your time is important and shouldn't be wasted by people that would never bother to pay your fees in the first place and who may not even be serious candidates to do work with you.
There's a whole lot more I could get into here, but I will end with this.  If you are not doing seminars right now and have seen a lot of cancellations and no shows to new prospective client appointments or have lower than an 85% close rate with the prospects that you do meet, you might want to consider giving seminars a try!  If you've tried it before and didn't have much success with it, it doesn't mean that seminar marketing doesn't work.  It could very well mean that some of the details about how to successfully do seminars were missed.  And that's where we can help!
---
WOULD YOU BE INTERESTED IN A

LIVE

SEMINAR MARKETING TRAINING?
By popular request, we are considering the idea of putting a live, one-day training program where you and your staff would learn about all of the necessary steps and processes to successfully put together a seminar.  As you probably know, the devil is in the details and these little details can impact your results!  Let us take a lot of the learning curve and trial and error out of learning how to do this on your own and train you on how Phil Kavesh's law firm has been successfully using the seminar marketing model in his law practice for over the past 30 years (and still does to this day!).
If you would be interested in learning more about the developments of such a training program, please shoot us a quick e-mail and let us know!
YES, KEEP ME POSTED! ← CLICK THERE
---
ABOUT THE AUTHOR
Kristina Schneider is the Executive Director of The Ultimate Estate Planner, Inc.  She graduated with a Bachelor's Degree in Business Administration from Pepperdine University in 2004 and was hired right out of college to work for the Law Firm of Kavesh, Minor & Otis, coordinating and facilitating Philip Kavesh's "Missing Link" Boot Camps while also providing administrative support to Mr. Kavesh as his Executive Assistant for over seven years.  Through her direct hands-on experience in Mr. Kavesh's law firm, Kristina has been able to assist numerous estate planning professionals through The Ultimate Estate Planner and, equally as important, many of their staff members, in the successful implementation of Ultimate Estate Planner's products and systems. Kristina has helped numerous estate planning attorneys with seminar marketing and practice management.  You can reach Kristina at (424) 247-9495 or by e-mail at kristina@ultimateestateplanner.com.