By Jennifer L. Villier, JD | Legal Education Faculty, WealthCounsel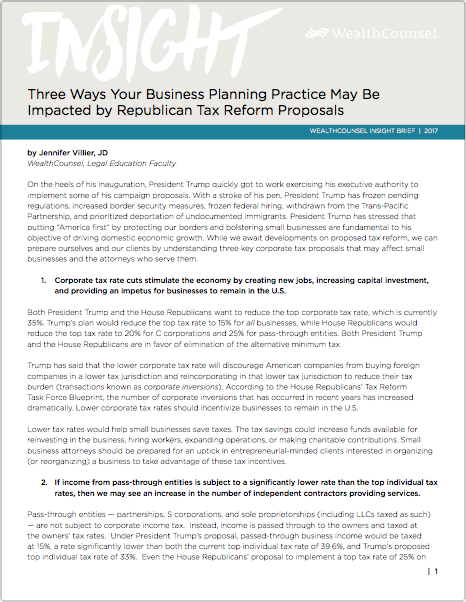 On the heels of his inauguration, President Trump quickly got to work exercising his executive authority to implement some of his campaign proposals. With a stroke of his pen, President Trump has frozen pending regulations, increased border security measures, frozen federal hiring, withdrawn from the Trans-Pacific Partnership, and prioritized deportation of undocumented immigrants. President Trump has stressed that putting "America first" by protecting our borders and bolstering small businesses are fundamental to his objective of driving domestic economic growth.
While we await developments on proposed tax reform, we can prepare ourselves and our clients by understanding three key corporate tax proposals that may affect small businesses and the attorneys who serve them. Download this brief to learn more.
DOWNLOAD FREE WHITE PAPER
This complimentary White Paper is available courtesy of WealthCounsel, LLC.
---
ABOUT WEALTHCOUNSEL, LLC
Whether you're starting, growing or enhancing a legal practice, joining WealthCounsel gives you the edge. You'll have access to our renowned drafting tools, educational programs, and practice development resources – – all with the support of a nationwide member community. Our focus is on giving you the tools, information, and confidence to unlock the true potential of your practice.
Create documents with pride: Thousands of attorneys have trusted – – and influenced – – our cornerstone legal drafting system, Wealth Docx®. Now you can create customized, professional-level legal documents in a fraction of the time you would normally spend. You can be confident that the documents you present will always be complete, correct, current – – and easy to understand. And your clients will notice the difference.
5,000+ members strong: As a WealthCounsel member, you join a welcoming and collaborative network of estate planning and business attorneys nationwide. They become your sounding boards, mentors, colleagues, and friends. There's a sense of community that is especially rewarding for the small or remotely located practice.
For more information about the benefits of a WealthCounsel membership, click here.
---
OTHER ARTICLES IN THIS ISSUE